Enquiry
Thank you for your interest in this item.
Please fill in the form below and we will get back to you shortly.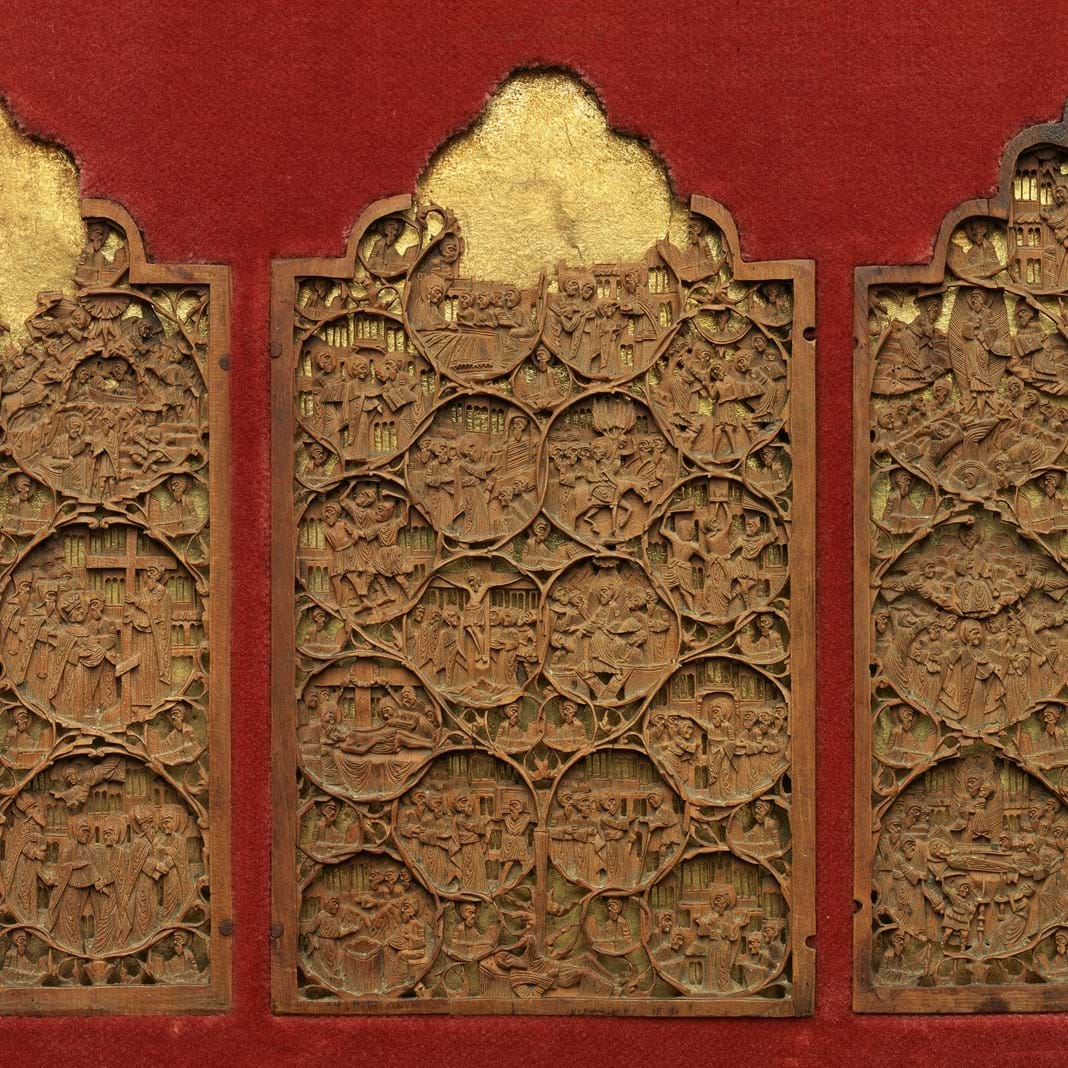 R003480
Boxwood triptych with miniature carving in openwork
A veritable tour de force of woodcarving, the artist renders a multitude of Christian scenes in exquisite detail.  The composition of the central panel is a variant of the Tree of Jesse.  In its usual form on icons, the father of King David is shown resting on the ground having a vision of the ancestors of the Messiah appearing on the branches of a tree.  Here the reclining man having a vision (indicated by the arm raised to his head) is shown wearing a monk's cowl.  His vision is altogether different from Jesse's.  The branches or roots his tree 'grow' like vines to form 16 intertwined round medallions illustrating events from the life and the passion of Christ.  In the spaces between them are 15 smaller roundels with half-length figures of saints and/or Old Testament Prophets.
The scheme of large and small intertwined roundels is repeated on the wings—albeit on a larger scale—each with three Feast Days of the Orthodox Church calendar and seven small roundels with half-length figures between them.  On the left, the Nativity, the Raising of the True Cross and the Visitation.  On the right, the Transfiguration, the Ascension and the Dormition of the Mother of God.  In the spandrels, split across the tip of the two wings, the artist placed the Annunciation; with the angel on the left wing (now missing) and the seated Virgin on the right. 
The composition is without direct parallel in the iconographic canon, leading one to wonder who the reclining monk having the vision was.  Perhaps he was none other than the Athonite master who created this masterpiece.
Origin
Mount Athos, Northern Greece
Date
ca 1700
Height: 12.20 cm
Width: 14.10 cm (all three panels)

Provenance
Dr Fischer Kunstauctionen, 08/11/2012, Icon sale, Lot 196
Acquired there by AXIA